Accelerate your digitalization roadmap with the enterprise-class SmartRPA Kapow platform based upon the Kofax Kapow product. SmartRPA Kapow can automate any current or planned information-driven process across your business and deliver faster time to market of your digitalization initiatives than any other RPA solution on the market. Catering to the needs of your IT, business and compliance departments, SmartRPA Kapow deliver secure, scalable and high availability automation of any manual process in your shared service center, in customer support and for customer facing self-service web and mobile applications.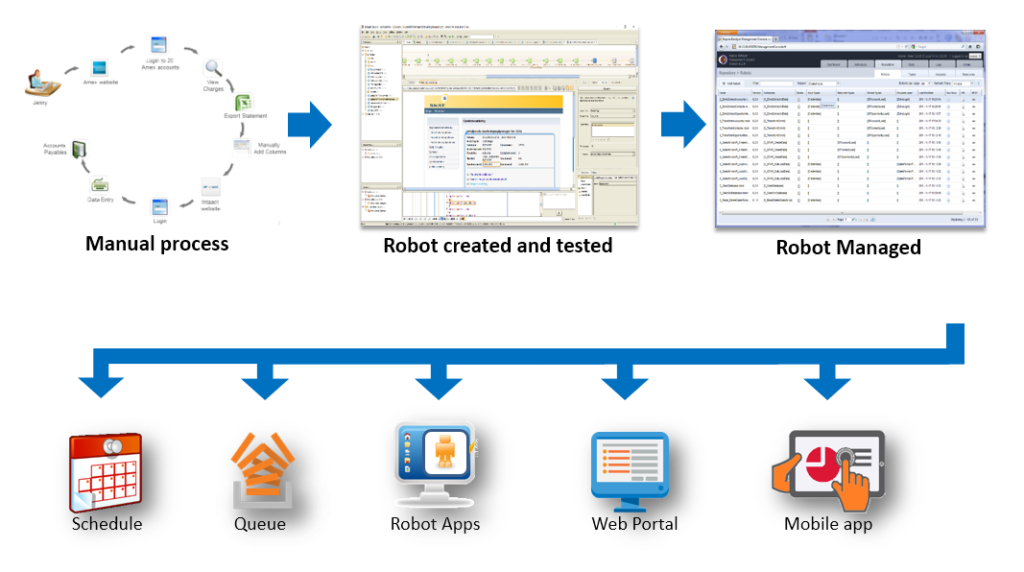 SmartRPA Kapow has a unique server-based architecture which allow for enterprise-class scalability and high availability. Multiple robots can execute in parallel on the same robot server and will access web, Excel and mainframe directly from the robot server. For automation with Windows desktop based applications, either a pool of Windows 7/10 virtual machines or a multi tenanted Windows Server is setup and controlled remotely by the robots running on the robot server.
Robots can be started in multiple ways, both schedules, and on-demand. Additionally a robot can always be run in real-time using an autogenerated SOAP or REST web service interface.
SmartRPA Kapow is industry leading when it comes to:
Ease of robot development, testing and maintenance

Speed of detecting errors and getting an automation back in production

Robustness and speed, especially for processes involving web, Excel and mainframe

Compliance with security and regulatory policies

Scalability and failover

Handling exceptions and rare cases

Development and sharing of reusable components (sub-robots)

Support for scheduled, queue based and real-time execution

Automation with Citrix XenApp based applications

OCR, handling scanned documents

Integration with other systems and applications

Support for both Windows and Linux platform

Roles-based rights, project and deployment capabilities
Design Your Software Robot
SmartRPA Kapow robot development is done in Design Studio, a fully integrated, visual development environment for building, testing and deployment of software robots. A powerful point-and-click – drag-and-drop workflow editor enables you to seamlessly generate workflows that embed the actions, rules and exceptions in the process you want to automate. As you create a workflow you at the same navigate the live applications and documents which mean that you build and test simultaneously. This deliver industry leading speed in development, testing and maintenance of robots.
Design Studio is data format aware which mean you navigate data and application in its native format whether being a web portal, a Windows thick client, a 3270 mainfram app, an Excel document, a REST/SOAP web service or documents in PDF, CSV, XML and JSON format. You can login to any application, extract data from any part of a page, enter data into forms or search boxes, make menu selections, and scroll through multiple pages. Once built, robots are deployed to a shared project repository in the web based Management Console. From here, they can be scheduled for batch-execution on a cluster of executed on-demand via an automatically generated REST or SOAP web service.
Click here to watch a video on how easy it is to build a robot with SmartRPA Kapow.
The built-in debugger allow you to test your robot with multiple input data, set break-points and step through your workflow to check if it behaves as desired. If an error happens in production the debugger will jump directly to the position in the workflow that caused the problem and visually show exactly what went wrong. The result is industry leading speed of development and maintenance of robots.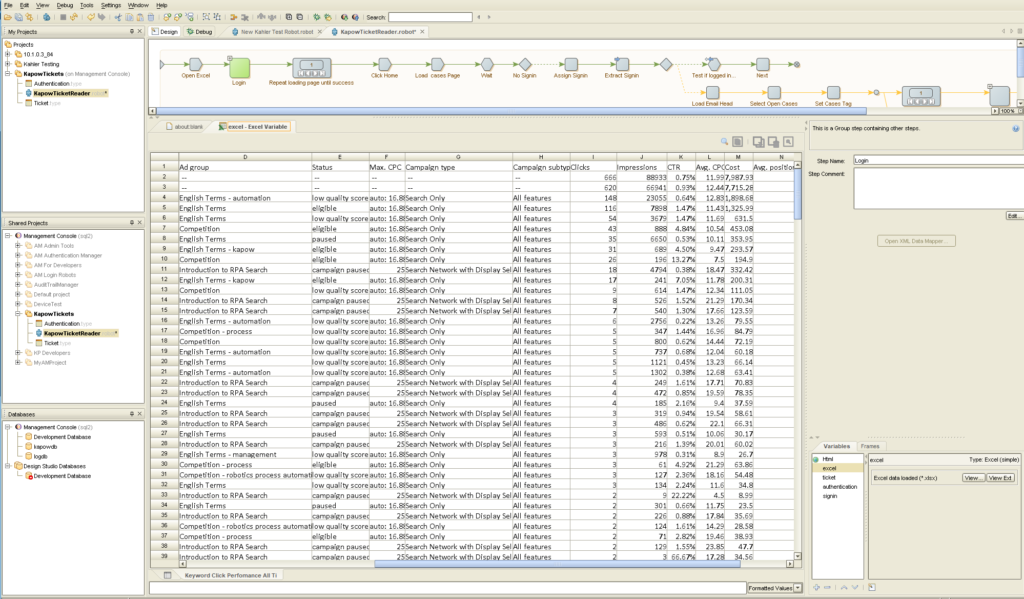 Design Studio features include:
Unique execute-as-you-develop which deliver fast real-time robot development and testing
Fast location of an error to shorten downtime
Development of reusable components to be shared at company and department level
Support for handling exception to be forwarded for human processing
One-click deployment of robot
Work with multiple projects and deployment environment (test, staging, production)
Roles based rights management per project and deployment environment
Hide of application credentials for unauthorized robot developers
The SmartRPA Management Console provides web-based governance and monitoring of the SmartRPA Kapow platform. Role-based administration allows secure, granular control over integration projects, access rights, and viewing of results. Administrators can define user rights  based on roles definitions in company LDAP or Active Directory. The Management Console also deploys robots as robust REST or SOAP synthetic-API web services, or robot app (Kapplet) mini web apps, and it automatically creates the APIs needed to invoke, or be invoked by Java or .NET code. The SmartRPA Kapow platform offers all of the capabilities needed for enterprise-grade RPA platform management and monitoring. Via the SmartRPA Kapow Management Console, robots can be scheduled and managed while applying the relevant role-based security policies required for governance and compliance. Performance and scalability is achieved by using high-availability, clustered servers deployed on premise or in the cloud at the customer discretion.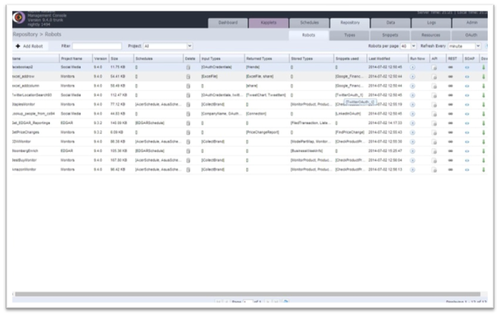 The built-in monitoring capabilities allow administrators to quickly check the health of a running system, whether in test, staging or production, and tune the system to perform optimally.