At SmartRPA we frequently listen to our or 100+ customers and develop add-on modules to Kofax Kapow that our customers need and which we don't see coming in the official Kofax Kapow release over the next 18 months.
Our development department includes two of the lead developers who at Kapow Software architected and developed critical parts of Kapow, including the Management Console, High Availibility feature and the classic workflow execution engine.
This ensures both 100% compatibility with Kofax Kapow and ensures an even higher ROI on your Kofax Kapow investment.
Of our more than 100 customers, many are to be found in the enterprise space where the very demanding requirements on compliance and security have been driving our development.
The SmartRPA add-on products to Kofax Kapow are grouped by purpose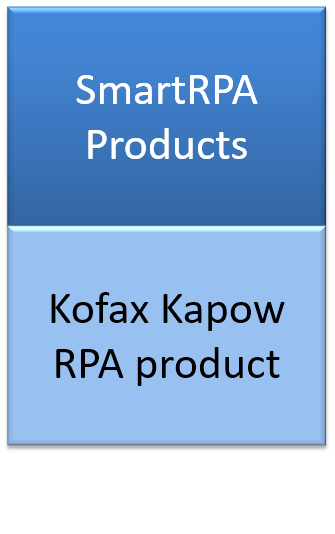 Compliance & Security
Adding support for strict compliance and security needs, including audit trail, password encryption, single-sign-on and Device Automation VDI pool management.
Enable secure file and database access when using Kofax Kapow in a setup where each project must be completely sandboxed from other projects. This enable multitenant use of Kofax Kapow
Connectivity
Provide an easy and productive point&click development environment for application in a IBM 3270 environment
Parallel Processing
A framework for parallel processing of many datasets with any user specified degree of parallelization.
Process Intelligence
Monitor business outcome and degree of automation of robot(s) running in production.
Easily pin-point where to optimize a set of robots to improve business value.