Accelerate your digitalization roadmap with the enterprise-class SmartRPA Kapow platform based upon the Kofax Kapow product. SmartRPA Kapow can automate any current or planned information-driven process across your business and deliver faster time to market of your digitalization initiatives than any other RPA solution on the market. Catering to the needs of your IT, business and compliance departments, SmartRPA Kapow deliver secure, scalable and high availability automation of any manual process in your shared service center, in customer support and for customer facing self-service web and mobile applications.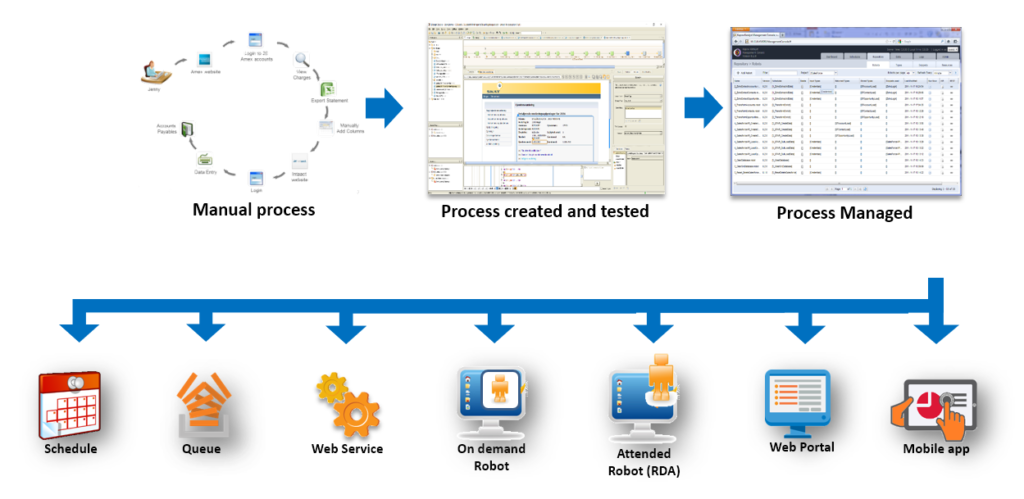 SmartRPA Kapow has a unique server-based architecture which allow for enterprise-class scalability and high availability. Multiple robots can execute in parallel on the same robot server and will access web, Excel and mainframe directly from the robot server. For automation with Windows desktop based applications, either a pool of Windows 7/10 virtual machines or a multi tenanted Windows Server is setup and controlled remotely by the robots running on the robot server.
Robots can be started in multiple ways, both schedules, and on-demand. Additionally a robot can always be run in real-time using an autogenerated SOAP or REST web service interface.
SmartRPA Kapow is industry leading when it comes to:
Ease of robot development, testing and maintenance

Speed of detecting errors and getting an automation back in production

Robustness and speed, especially for processes involving web, Excel and mainframe

Compliance with security and regulatory policies

Scalability and failover

Handling exceptions and rare cases

Development and sharing of reusable components (sub-robots)

Support for scheduled, queue based and real-time execution

Automation with Citrix XenApp based applications

OCR, handling scanned documents

Integration with other systems and applications

Support for both Windows and Linux platform

Roles-based rights, project and deployment capabilities